ENTREPRENEURSHIP NEWS
This year's Entrepreneurship class has taken off with the ambition of running a school store. They tested the market by making custom shirts at the recent 8th Grade Volleyball tournament and were overwhelmingly successful. Pictured are the main designs they made and some of the student Entrepreneurs. Along with the fun of actually making the shirts, they needed to calculate expenses, determine their prices and profit margin, and did some market research before ordering. Shirts were customized by adding names if requested. The class is looking forward to continuing their business at the 7th Grade tournament on Oct. 9th and throughout the year. Contact one of the class members or Mrs. Schmidt (renae.schmidt@k12.nd.us) at the school if you would like to place an order! Colors are limited to stock on hand and subject to change.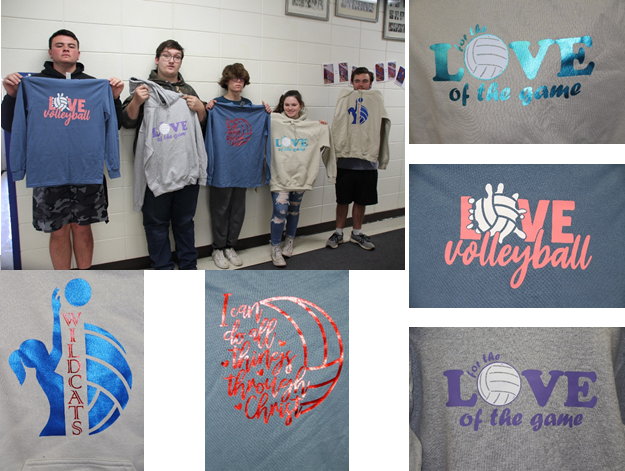 Family and Consumer Science
I has been learning some basic sewing skills by making over 40 Corn Hole bags for the youth group. Repetition is the key to mastering skills, right! Their next project was designing custom embroidery for some FCS department dishtowels. (Pictured below are the some of the student with their completed projects.) This was a good practice project for them to learn the importance of paying attention to directions and details. We covered the importance of choosing color schemes and color wheel basics. Their next projects will be ones they get to take home beginning with a hand sewn Christmas ornament and finishing with pillowcases.
Due to the expanding enrollment in the Family and Consumer Sciences classes, the school is adding two additional labs to the previously existing two. We are looking forward to having 4 complete labs by the end of October!!! A huge THANK YOU goes out to the Gaming Committee for providing some funds for supplies in the new lab space. We can't wait to begin using it all!